The supplier I need to use is inactive. Now what?
Suppliers are inactivated for various reasons. Once inactivated, SDM will leave an internal note in the supplier record indicating why. Routine maintenance of IU's supplier database is critical to ensure proper IRS compliance and reporting and helps payments and orders get to the right place.
Here are the three most common deactivation reasons:
Duplicate profile: This supplier profile can no longer be used. A new purchase order (PO) must be created using a different supplier profile. The Internal Notes section will state which supplier number to use with your new order.
Expired or missing information: The profile is missing information or documents have expired and the profile cannot be used until new information is received. Submit a Supplier Edit Request Form to request SDM review the record.
Lack of use: If a profile has not been updated, used in a PO, or received a payment in 3 years, the profile is deactivated. If you need to use the supplier, submit a Supplier Edit Request Form. This prompts SDM to reinvite the supplier so they can update or verify the information in the system is accurate.
Check out this short video about inactive suppliers to see the steps in action. Questions? Contact the SDM team by submitting a Support Form.
Lifecycle of a Supplier Edit Request Form
You've submitted a Supplier Edit Request Form to initiate changes to an existing BUY.IU supplier profile. What happens after you click submit?
The SDM team reviews all Supplier Edit Requests. If the team has the information they need, they take the requested action and reject the form.
If additional details are needed, the form is returned to the submitter. At this point, the submitter should enter the necessary info in the Comments to SDM text box and resubmit the form.
The flowchart below summarizes these steps.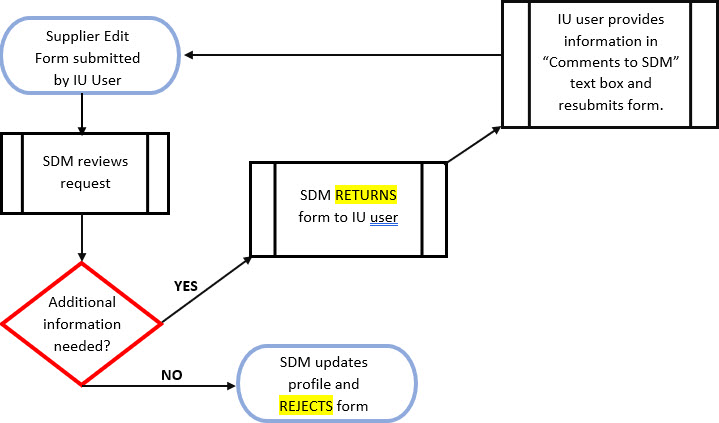 The form submitter receives an email when a form is returned or rejected. In the email, click the button to view the form in your organization's site.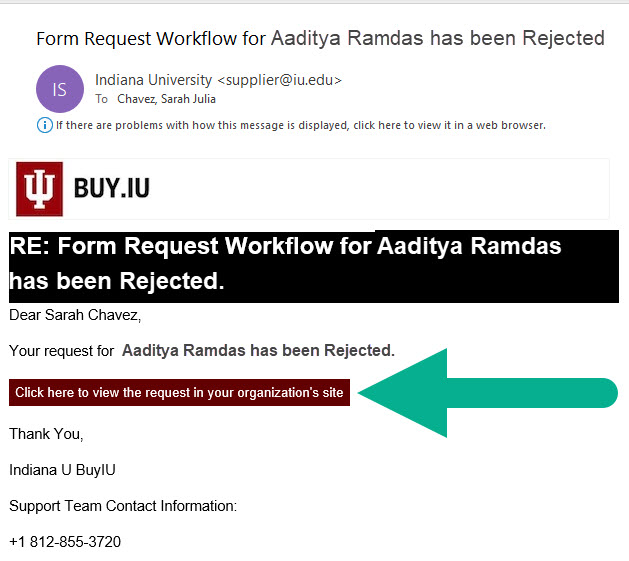 Then History in the upper right-hand corner of the form to see notes left by the SDM team.